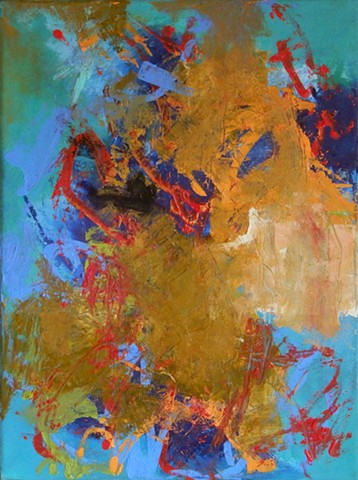 Pictured above: Autumn Light, 2020, oil on canvas, 16 x 12 inches
Frances Carter Stephens, a Houston-based visual artist, creates abstract paintings, drawings and conceptual works. Her painting practice brings together elements of earth, sky, and the weather. She uses the language of abstraction to explore intangible qualities of emotion that emanate from interaction with the complexity of the planet and the organic world of landscape. Weather is an aspect of the abstract landscape she explores for its dynamic impact on the physical world. Extreme heat, raging fires, sudden storms, and icy blasts are part of her visual representation. Gardens are a theme she returns to repeatedly as places of respite and renewal and as metaphor for the exuberance and struggle in the life cycle—birth, growth, decline, and death.
Stephens began drawing and painting at an early age in her native Virginia. She began formal art studies in high school, and studied theater design, studio art, and art history at the University of Virginia and The University of Texas at Austin.
She has been showing her work in solo and group shows in Houston and the surrounding area since 2010. Her work has been in juried shows including Lawndale's Big Show 2010; Visual Art Alliance Juried Exhibitions 2013, 2016, and 2019; Assistance League of Houston Celebrates Texas Art 2013 and 2018; and the Texas National at SFASU in 2016 and 2018.